---
You don't need a large, complicated mixer to achieve pro-quality live sound, and you don't need to compromise on power for a simple design that's easy for anyone to use. With the QSC TouchMix series of digital live sound mixers, you've got serious connectivity, routing, and effects processing in an intuitive design. QSC's TouchMix is versatile enough to manage a wide range of medium- and small-format mixing tasks, while its touchscreen interface and built-in user help make it easy for almost anyone to use. If your goal is to have outstanding sound quality and extensive mix capabilities in the smallest form factor possible, you'll be impressed with the QSC TouchMix series.
Smart and simple for anyone to use
While the QSC TouchMix series packs the connectivity and processing capabilities of much more complicated mixers, its simple interface and built-in help make it easy for anyone to use. Whether or not you're experienced with setting up a mixing board, the TouchMix series is designed to help you get great sound fast. In Simple Mode, your TouchMix mixer will optimize channel and effects settings for the best results in a variety of settings, similar to the "Auto" function on a DSLR camera. An index of presets helps you find the best sound possible for vocals, guitars, drums, or any other sound source. And if you ever need some extra help navigating the TouchMix interface, there's a handy "Info" button that will explain any feature or parameter for you right on the touchscreen display.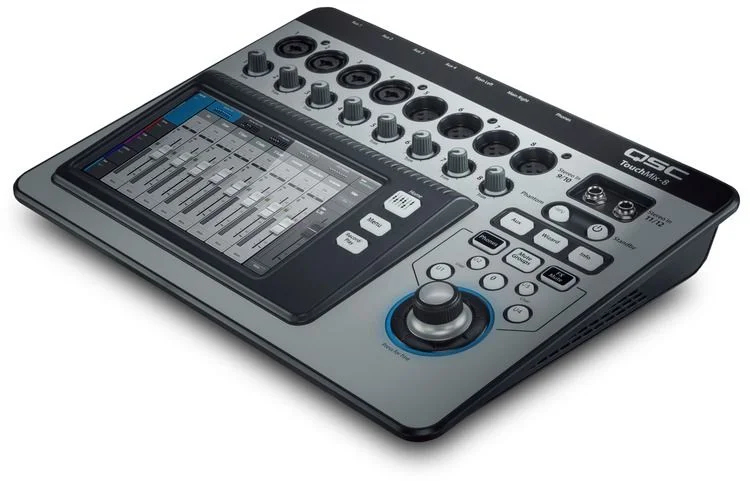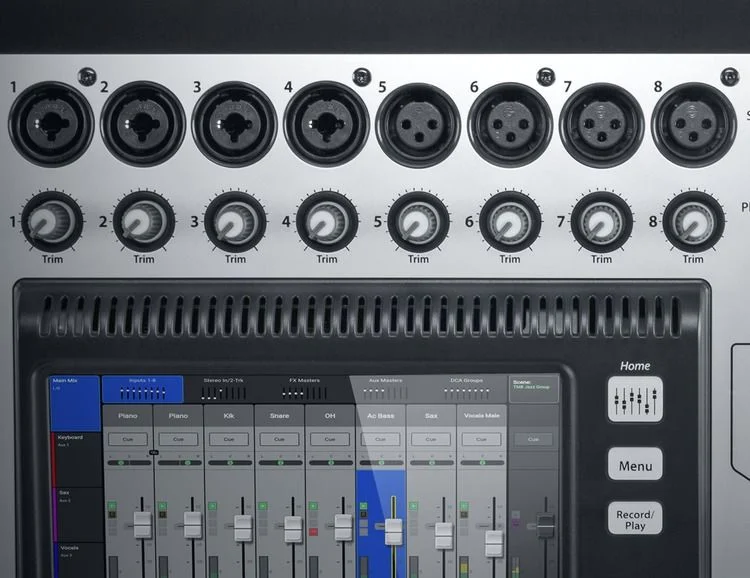 Power and sound quality any pro will appreciate
Even though the TouchMix series is designed to be easy for anyone to use, it has everything any experienced professional needs. While beginners may use the Simple Mode, Effects Wizard, and Gain Wizard to get a great sound, there's nothing keeping you from tweaking everything yourself in the Advanced Mode to fine-tune the sound of your production. All input channels have a 4-band parametric EQ, as well as a gate and compressor. All aux outputs, DCAs, mute groups, and main outputs have a 1/3 octave graphic EQ, notch filters, limiters, and delay. You have all the tools you need to mix any show with confidence.
Monitor any way you like with versatile aux sends
Unlike many compact mixers in this class, the QSC TouchMix-8 gives you four aux sends for comprehensive monitoring options. And while you can set up individual monitor mixes and send them to typical stage monitors, the TouchMix's aux sends also let you drive in-ear monitors or headphones directly. So if the TouchMix is onstage with the performers, you can connect IEMs without having to connect a separate headphone amplifier/distributor.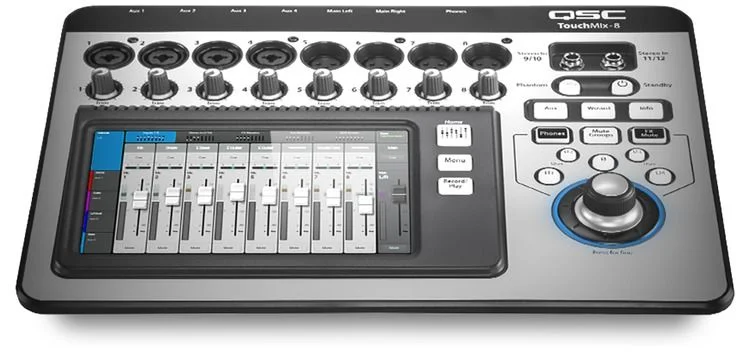 Record and play back tracks from a hard drive
Recording your live shows is easy with the QSC TouchMix series — you don't even need a computer or separate recorder. Just connect an external USB hard drive to your TouchMix mixer and you're good to go. You'll be able to record all inputs, as well as a combined stereo mix, in 32-bit Broadcast Wave format. You can play back recorded tracks through the mixer as backing tracks or import them into your DAW software later for mixing.
Manage your mix anywhere in the room via built-in Wi-Fi
With your tablet or smartphone, you can adjust virtually every parameter on the TouchMix mixer from anywhere in the room. The free remote control app controls all mixer parameters, making it easy to walk the room or tweak monitor mixes from the stage. Best of all, you don't need any additional hardware to connect wirelessly! Your TouchMix series mixer comes with a Wi-Fi adapter that creates the network connection between your mixer and your device. If you need Wi-Fi control over greater distances, a user-supplied USB-Ethernet adapter is required.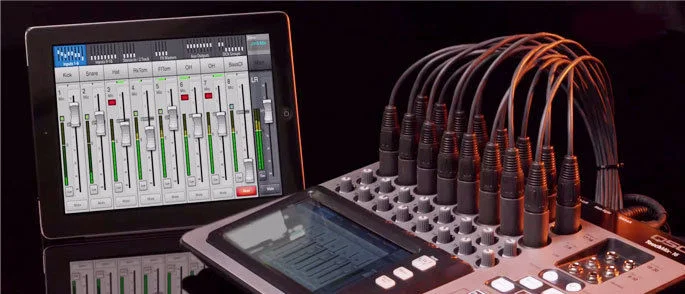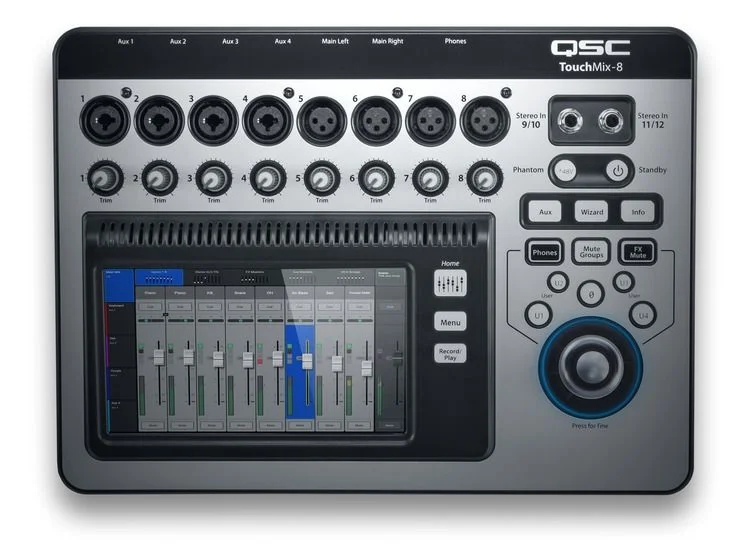 Version 3.0 firmware delivers next-level functionality
QSC is committed to keeping the TouchMix at the forefront of mixing technology. The latest version of TouchMix firmware, version 3.0, adds a ton of useful features and enhancements:
Updated graphics
Automatically checks for firmware updates
PEQ frequency graph expands to full screen when RTA is off
Channel Safe (prevents designated channels from changing when a scene is recalled)
"Omit levels" function on Preset page now also omits group assignments
Tablet Follows Mixer — when in Follow Mixer mode, touching a fader on the mixer causes your tablet to display that channel's screen
Balance control for FX returns
Play back stereo MP3 files from USB memory devices
Direct access buttons for Aux mixes
Output notch filters and Anti-Feedback Wizard
6-band parametric EQ on all outputs in addition to the available graphic EQ
Additional speaker presets for QSC E series and K.2 series speakers
Room Tuning Wizard
Copy and Paste
Input channel delay (up to 100ms)
Tap Tempo on mixer and tablets
USB drive format utility
8 user buttons on app
QSC TouchMix-8 Features:
Large touchscreen for hands-on control and intuitive navigation
Anti-feedback and Room Tuning Wizards speed up your workflow by simplifying repetitive and complex equalization tasks
Built-in Real Time Analysis Tools identify sonic trouble fast with 2 individual Real Time Analyzers
Record all input channels direct to an external hard drive, no computer required
Outstanding sound quality from Class A mic preamps
All outputs are equipped with 1/3-octave graphic EQ, 6-band parametric EQ, limiter, delay, and 8-band notch filter
Mono mix outputs can also be configured as stereo pairs for stereo monitoring
Over 100 presets for instruments, microphones, and other audio sources make show setup fast and easy, especially for novice mixers
Connect wirelessly to iOS or Android devices (requires user-supplied Wi-Fi adapter/router for greater distances)
TOUCHMIX-8 14 CHANNEL DIGITAL MIXER
Brand: QSC
Product Code: TOUCHMIX-8
Availability:

In Stock
---